'Pierre Werner and Europe' Project
Ten years since the death of Pierre Werner, a great European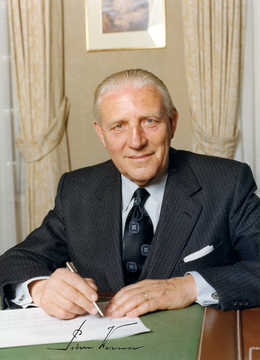 Pierre Werner (29 December 1913–24 June 2002) was an illustrious and complex figure whose life spanned the 20th century. He was an economist, legal expert, politician and diplomat, a leading light in the European integration process — particularly monetary integration — who helped shape contemporary Luxembourg. He was a prominent Catholic scholar who was active in academia and played an influential role in European and American economic networks. It is now ten years since his death, but he remains an inspiration for many Luxembourgers who observed his achievements at both national and European level.
In 2011, the CVCE launched a major research project on Pierre Werner's European vocation and achievements. The preparatory work for the project has already been published in the 'Research' section of the CVCE's website; this includes biographical and bibliographical information, key dates and interview excerpts.
At the end of each stage of the project, the results will be structured and presented in the form of digital research corpora, the first of which focuses on the Werner Report and is geared towards the academic community. The creation of a subject file for educational purposes, as well as the organisation of an academic event based on the general subject area covered by the project, are also in the pipeline.
(c) Photo: Archives familiales Pierre Werner