'Pierre Werner and Europe' Project
Seminar on the exploration of the Werner archives at the University of Luxembourg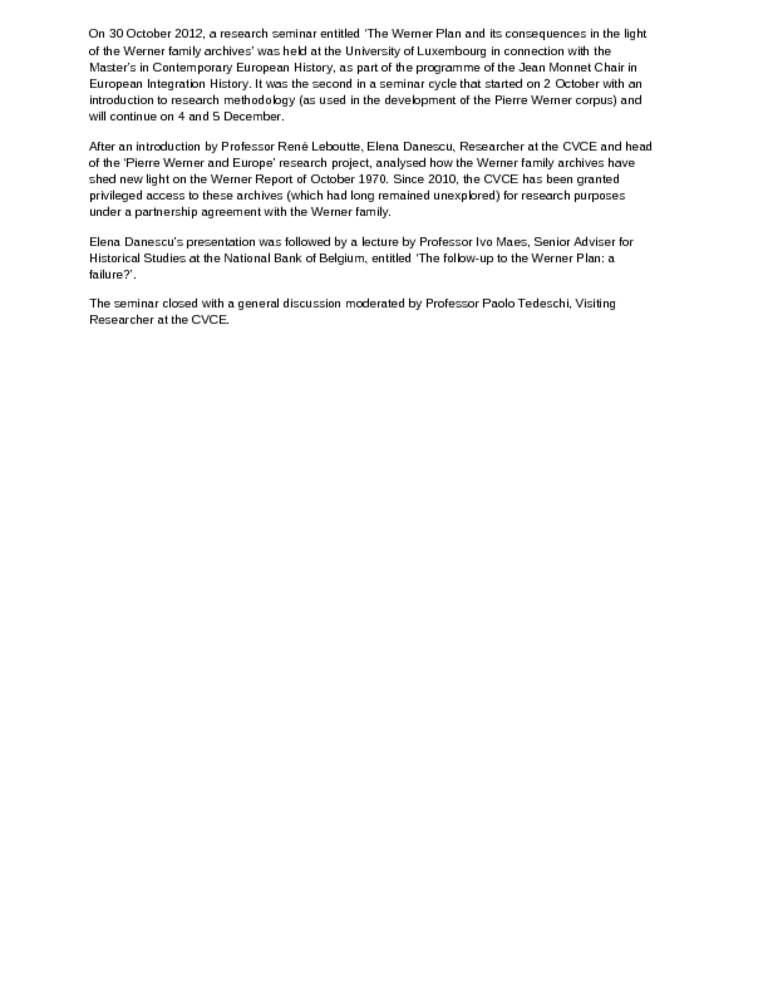 On 30 October 2012, a research seminar entitled 'The Werner Plan and its consequences in the light of the Werner family archives' was held at the University of Luxembourg in connection with the Master's in Contemporary European History, as part of the programme of the Jean Monnet Chair in European Integration History. It was the second in a seminar cycle that started on 2 October with an introduction to research methodology (as used in the development of the Pierre Werner corpus) and will continue on 4 and 5 December.
After an introduction by Professor René Leboutte, Elena Danescu, Researcher at the CVCE and head of the 'Pierre Werner and Europe' research project, analysed how the Werner family archives have shed new light on the Werner Report of October 1970. Since 2010, the CVCE has been granted privileged access to these archives (which had long remained unexplored) for research purposes under a partnership agreement with the Werner family.
Elena Danescu's presentation was followed by a lecture by Professor Ivo Maes, Senior Adviser for Historical Studies at the National Bank of Belgium, entitled 'The follow-up to the Werner Plan: a failure?'.
The seminar closed with a general discussion moderated by Professor Paolo Tedeschi, Visiting Researcher at the CVCE.