'Pierre Werner and Europe' Project
Publication of the proceedings of the round table 'Pierre Werner: accounts of a European vocation'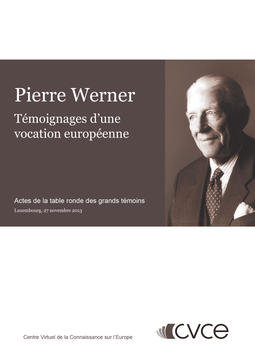 The CVCE has recently published the proceedings of the round table 'Pierre Werner: accounts of a European vocation' (ISBN 978-99959-708-2-6).
The book provides a record of the public event that the CVCE and its partners — the Pierre Werner Institute, the European Merit Foundation, the Cercle Pierre Werner and SES — held on 27 November 2013 at the Cultural Exchange Centre of the Abbaye de Neumünster to mark the centenary of Pierre Werner's birth.
At this memorable event, eminent figures from Luxembourg and Europe shared their thoughts on the personality and achievements of Pierre Werner and his contribution to the history of a united Europe. The evening saw Colette Flesch, former Luxembourg Minister and Deputy Prime Minister, Member of the European Parliament and Member of the Chamber of Deputies; Luc Frieden, Luxembourg Finance Minister (2009–2013); Jacques Santer, Honorary Minister of State and former President of the European Commission; Sir Brian Unwin, Honorary President of the European Investment Bank; René Steichen, Chairman of the Board of Directors of SES; Charles-Ferdinand Nothomb, Belgian Minister of State and President of the Pierre Werner European Circle; and Pierre Werner's son and daughter, Marie-Anne and Henri Werner, exchange their memories and anecdotes as they answered the questions put by Danièle Fonck, Managing Director of Editpress and Editor-in-Chief of the Tageblatt, who herself worked with Pierre Werner as a young journalist. The event opened with a recorded message from José Manuel Durão Barroso, President of the European Commission, in which he spoke about Pierre Werner's European career and the balance he was always able to achieve between his work in Europe and his commitment to his native Luxembourg. At the end of the round table, Claude Strasser, Managing Director of POST Luxembourg, presented a commemorative stamp featuring a portrait of Pierre Werner.
As well as the round table, the centenary of Pierre Werner's birth was an opportunity for the CVCE to highlight Pierre Werner's personality and European achievements through an international scientific conference and a biographical documentary, primarily composed of video accounts by major players in the European integration process recorded by the CVCE as part of its 'Pierre Werner and Europe' research project.
The proceedings of the round table can be downloaded from the CVCE website.
PIERRE WERNER: TÉMOIGNAGES D'UNE VOCATION EUROPÉENNE: Actes de la table ronde des grands témoins (Luxembourg, 27 November 2013). Luxembourg: CVCE, 2014.ISBN 978-99959-708-2-6.