'Spain and the European integration process: converging pathways' project
Participation of the CVCE in the Academy of Global Governance at the European University Institute's Robert Schuman Centre for Advanced Studies (RSCAS-EUI)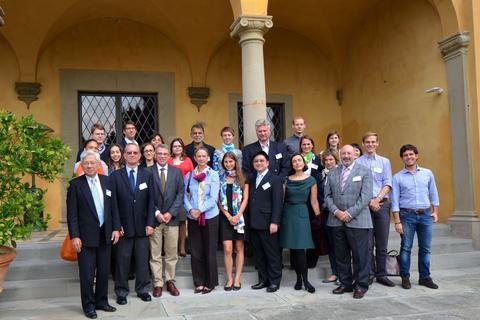 Cristina Blanco Sío-López, Project Manager of the 'Spain and the European integration process' research project, has been selected to take part, as a junior academic specialising in comparative regionalism studies in the EU and Latin America, in the Academy of Global Governance (AGG), in particular in the Executive Training Seminar 'Regional Integration Beyond the European Experience: Latin America and Asia', which was held at the European University Institute (EUI) in Florence from 3 to 5 October 2012.
The AGG is part of the Global Governance Programme of the EUI's Robert Schuman Centre for Advanced Studies (RSCAS). It constitutes a unique executive training programme by the world's leading experts in the field of global governance targeted at 'leaders of the future': young executives and policy-makers, public sector officials, private sector professionals, junior academics and diplomats.
The role of the Global Governance Programme in this context is to share knowledge, develop new ideas on these issues and serve as a bridge between research and policy-making. Participants in this Executive Training Seminar comprised experts and representatives from the United Nations, the European Union and from different universities and research centres in the United States, Latin America, Asia and all over Europe, including the CVCE. All participant institutions have been invited to become part of the Global Governance Network, a platform for leading global governance institutions, scholars and policy experts to exchange research results, analysis and commentary.