'Resources on the European socio-economic model' (RESuME) project
General presentation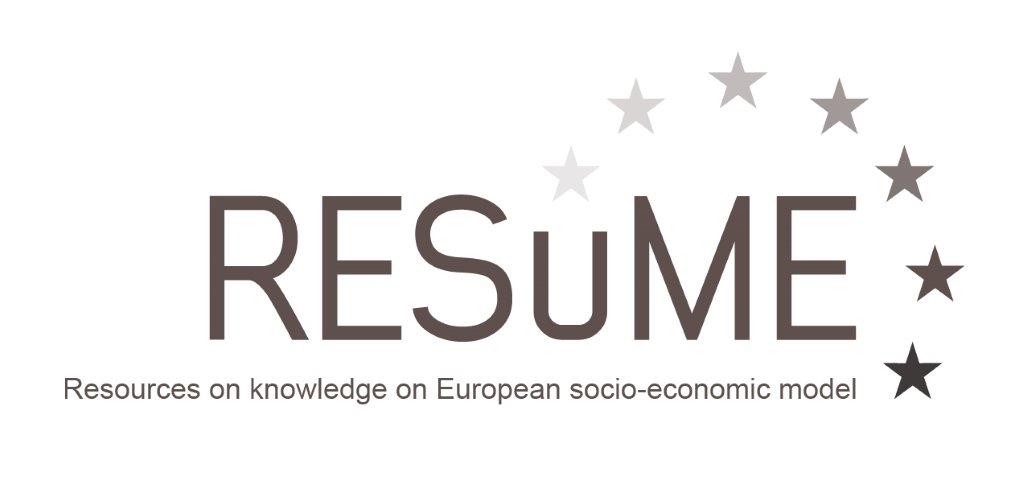 The 'Resources on the European socio-economic model' (RESuME) project aims to develop and disseminate an innovative and enriched set of scientific and educational resources and digital tools on the EU's socio-economic model. This project is co-funded by the Erasmus+ Programme of the European Union.
The European integration process completely transformed the approach to public policy in the social, economic, financial and monetary fields. The integration of national markets within an internal European market increased the interdependence of local economies. It also resulted in a confrontation of different national economic, social and capital models which actually served to highlight specific shared characteristics: common values, the strong involvement of public authorities in regulating economic activities and redistributing wealth, macro-economic policies geared towards stability and sustainability, and a tradition of social dialogue and consultation. These common features form the broad outline of a European socio-economic model based on multi-level governance.
The 2008–2009 financial crisis and subsequent sovereign debt crisis had a significant impact on the European model. They challenged the resilience of this model to deal with external pressure and its adaptability to an environment shaped by greater market integration and highly risk-averse economic agents. They demonstrated the shortcomings of European multi-level governance. From 2008, the EU launched a reform of the regulation and supervision of its financial services and of EMU. A new socio-economic model began to emerge at European level.
Dispersion of knowledge and the segmentation of disciplines have led to a lack of comprehensive, interdisciplinary analyses on this model.
The project aims to fill this gap. Via the disciplines of contemporary history, law, economics and political science, it aims to contribute to the study of the European socio-economic model, its origins, current characteristics and future development. The project will highlight the interaction between the EU, states and the market. It will also explore the legal and political environment and the historical context that drive economic players in the European area.
The project can be broken down into three main areas:
European socio-economic values
The European socio-economic model from a historical perspective: achieving a balance between the EU, states and markets
The post-crisis socio-economic model: evolution or revolution. A prospective multidisciplinary analysis
The project involves research and teaching activities leading to the production of several publications and the organisation of events.