Entwicklung der Forschungsinfrastruktur zur europäischen Integration
Die Entwicklung der Forschungsinfrastruktur CVCE.eu beruht auf einem integrierten Konzept, der europäische Studien und digitale Technologien miteinander verknüpft.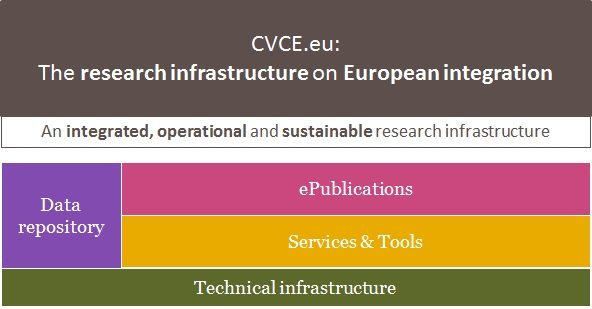 Wir tun unser Bestes Ihnen den Inhalt unserer Seiten in deutscher Sprache anzubieten. Bitte haben Sie Verständnis dafür, dass eine Übersetzung nicht immer gleich verfügbar ist und wählen Sie eine andere linguistische Version.
The building of the CVCE.eu research infrastructure involves an interdisciplinary approach combining European integration studies (the EIS Department) with digital technologies (the DH Lab). The team is constantly improving the research infrastructure, particularly by:
the development of novel forms of digital publication, including enhanced publications;
the implementation of an enriched metadata model to ensure enhanced ease of use, searchability and semantic linking of resources;
the development of tools and techniques for the (re)presentation, visualisation and exploration of the centre's e-publications (based on XML-TEI, social network analysis, interactive timelines, etc.);
the development of tools enabling a personalised approach in accordance with user interests and needs.
Find out more about the Digital Humanities Lab