The CVCE to join the University of Luxembourg on 1 July 2016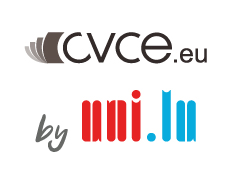 We are pleased to announce that the Centre Virtuel de la Connaissance sur l'Europe (CVCE) will be joining the University of Luxembourg on 1 July 2016. The aim of this integration is to pool research activities in European integration studies and digital humanities and to strengthen the University's expertise in these two fields.
The digital research infrastructure on European integration will be renamed 'CVCE.eu by UNI.lu' and will remain accessible at the address www.cvce.eu. The projects and activities for the development of digital content and tools for the infrastructure will be continued within the University. The 'European integration studies' and 'Oral history of European integration' collections will continue to be enhanced. Your personal publications created using the MyPublications tool will also remain accessible. The CVCE's integration into the University of Luxembourg will guarantee the sustainability of existing content and pave the way for new opportunities for the development of the research infrastructure.
We would like to thank you for your support over the past twenty years for the European NAvigator (ENA) project and for the CVCE, and we look forward to seeing you again in the future at the University of Luxembourg.
For all the latest news on our activities, feel free to sign up to the University's newsletter and to follow the 'CVCE.eu by UNI.lu' accounts on social media (Twitter, Facebook and YouTube).