Participation in the workshop 'The Future of a United Kingdom in the European Union'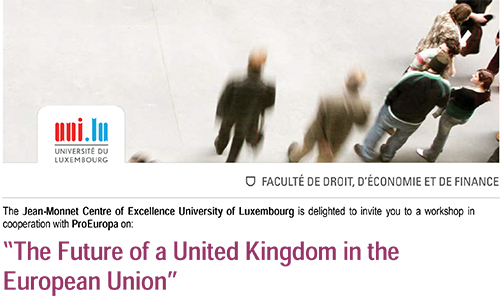 Dr Susana Muñoz, Head of European Integration Studies at the CVCE, took part in the workshop 'The Future of a United Kingdom in the European Union', organised by the University of Luxembourg's Jean Monnet Centre of Excellence, on 11 March 2016.
The purpose of the workshop was to examine the consequences of the European Council agreement for the UK's future relationship with the EU and to look at the broader questions raised by the conclusions of the European Council for the nature of EU law and for Luxembourg.
During the panel entitled 'Lessons from History and Perspectives for the Future of the EU as a Political and Legal System', Dr Muñoz gave a presentation which was essentially based on the CVCE's experience of analysing European integration using an interdisciplinary approach (involving European law, contemporary history, political science and economics). Her comparative analysis of the 1975 referendum and the forthcoming referendum to be held in June 2016 was documented by a selection of relevant sources available at CVCE.eu, mainly eInterviews published in the 'Oral history of European integration' collection.
After a brief historical overview of the UK's accession to the European Communities, she focused on the 1975 referendum in order to highlight some similarities and contrasts and to provide some food for thought ahead of the forthcoming referendum.