Workshop 'Eurovision? Oral history and European finance'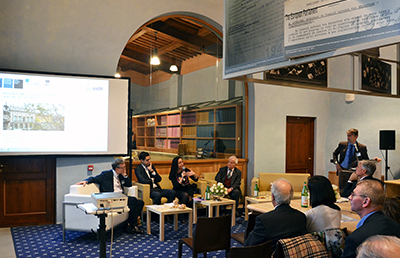 On 28 January 2016, Dr Susana Muñoz, Head of European Integration Studies at the CVCE, took part in a workshop on the financial history of Europe in connection with an oral history project led by eabh (the European Association for Banking and Financial History e.V.).
Her contribution entitled 'Driving innovation through the CVCE's oral history programme: an integrated model for research and knowledge transfer in the field of European finance' highlighted the conceptual model of the CVCE's 'Oral history of European integration' collection, with a particular focus on the interviews relating to economic, monetary and financial issues.
The workshop, organised in cooperation with the Historical Archives of the European Union in Florence, was followed by a discussion with financiers, politicians, lawyers and academics on the theme 'Eurovision? The Initial Period of Europe's Monetary Union'.
A selection of pictures is available online here.