CVCE Europa Quiz grand prize draw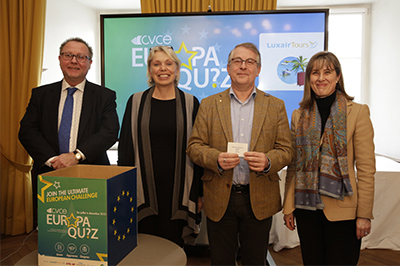 'I really enjoyed taking part in the CVCE quiz every day, mainly because it was so varied and taught me a lot. In general I think we know far too little about Europe, so it's fun to test your knowledge and see what you know and what you don't…' (Astrid Oetinger-Mueller, Germany)
To mark the Luxembourg Presidency of the Council of the European Union, Luxembourg launched a major international competition about European integration in which participants were given 200 questions to answer about a variety of European topics over a period of 6 months. The aim of the competition was to improve knowledge among young people of the European Union, its history, institutions, operation, symbols, key figures, countries and territories, as well as Luxembourg's role in the European integration process.
The competition was developed by the Centre Virtuel de la Connaissance sur l'Europe (CVCE) in partnership with the Luxembourg Presidency of the Council of the European Union, Digital Lëtzebuerg, the European Commission Representation in Luxembourg and the European Parliament Information Office in Luxembourg.
'I think it's a great idea to organise a quiz. It really teaches you a lot about Europe. We come into this world not knowing much, so we need to make the most of any opportunity to learn something new!' (Marc Greis, Luxembourg)
More than 5000 people took part in the quiz, answering a different question about Europe every day over a six-month period — which made it the biggest web competition in Luxembourg in 2015. 22% of the participants were from Luxembourg, and 78% from other countries in Europe. 66% were aged between 16 and 34. On average, around a thousand people scored the 200 points needed each month to be entered into the monthly prize draw for a chance to win Benelux InterRail passes donated by the Luxembourg railways (CFL), spa breaks donated by MONDORF Domaine Thermal or GoPro cameras donated by Nvision and POST Luxembourg. Some 300 people scored 1500 points in total, making them eligible for the grand prize draw for a trip to Cape Verde, donated by LuxairTours.
'Good layout, good questions, clear answers and background information.' (Lambert Schulze Wessel, Belgium)
The competition was based on the idea of gamification, a highly effective approach that uses digital gaming techniques for knowledge transfer. This was a great way to share knowledge and to make the CVCE's resources on European integration accessible to as wide an audience as possible. The CVCE is now planning to adapt the thematic modules in the competition for use in secondary school teaching.
'The Europa Quiz has become part of my breakfast routine! I know that when the quiz is over next January I'll really miss it. It's been a great success.' (Wilhelm Paul, Germany)
On Wednesday 20 January 2016, Patrick Lamesch from LuxairTours drew the winning ticket in the CVCE Europa Quiz grand prize draw. The lucky winner of the trip to Cape Verde is Madeleine Tost, from Germany. The other winners are: Simona Tomšic from Croatia, Hendrik Langen from Germany, Philippe Clave from France and Harald Jacob from Germany.
Congratulations!