Projets réalisés
(2003-2016)

BLIZAAR (Hybrid Visualization of Dynamic Multilayer Graphs)
BLIZAAR is a research project on advanced visualisation techniques with LIST - Luxembourg Institute for Science and Technology (LIST) and French partners LaBRI — Laboratoire Bordelais de Recherche en Informatique and EISTI — Ecole Internationale des Sciences du Traitement de l'Information.
The project has been selected to receive funding from the Luxembourg National Research Fund (FNR) and its French equivalent ANR as part of the agencies' call for bilateral projects.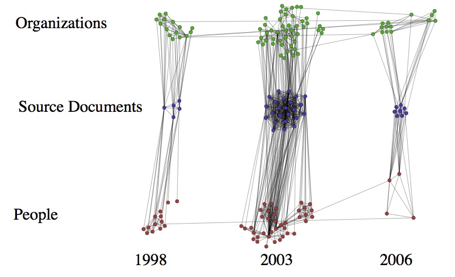 Visualisation: Fintan McGee, LIST

The digitised sources in the CVCE.eu's collections on the European integration process contain information on the rich interplay and relations between thousands of people, institutions and locations. All these relations can be understood as part of a large, highly complex network. BLIZAAR sets out to develop new tools for exploring this network.
BLIZAAR will develop new visualisation techniques based on the CVCE.eu's data and user needs. The consortium will develop new types of visualisations that are interactive, combine existing approaches and will pay particular attention to changes over time.
The project started in January 2016 and will run for three years. We will update this page as the project progresses.
Project team

Dr Marten Düring
Daniele Guido