'Diplomacy within WEU' project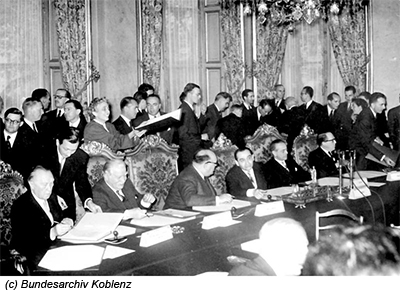 The Western European Union (WEU) is the first European security and mutual defence organisation. Following the closure of WEU in June 2011, its Permanent Council welcomed the proposal by the Luxembourg Government to transfer the organisation's archives to the Luxembourg National Archives and to give the CVCE the task of exploiting these holdings for research purposes. In the light of this, the CVCE has decided to initiate a research project to look at new issues relating to European security and defence.
The WEU archives include all the institutional documents that were created from the establishment of the Brussels Treaty Organisation in 1948 to the dissolution of Western European Union in 2011. This wealth of material sheds new light on the history of this organisation that played such an important part in shaping a 'European security and defence identity' and reconciling 'Europeanists' and 'Atlanticists', and which will leave behind a legacy in various European organisations, thereby bridging the gap between past and present.
This new study will incorporate a wide range of primary and secondary sources in several languages in addition to the documents from the WEU archives: official documents — speeches, press conferences, diplomatic correspondence, memorandums and reports — from various European foreign ministries, as well as press articles, extracts from memoirs, images and audiovisual material.
Lead researcher: Verónica Martins
Project Manager: Marco Gabellini