CVCE.eu: A digital research infrastructure for European integration studies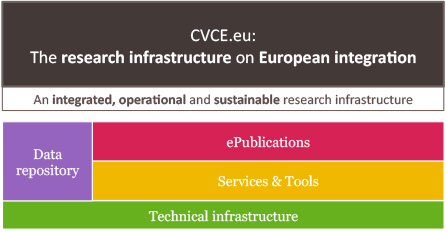 The University of Luxembourg builds an integrated subject-specific digital research infrastructure for European integration studies (CVCE.eu) with the mission to contribute to an enriched understanding of European integration in its past, present and future dimensions.
The CVCE.eu research infrastructure includes publications, data, tools, services, skills and networks. It supports ICT-based methods and tools for analysis, data visualisation and representation. It provides access to enhanced publications on key subjects relating to the European integration process and incorporating relevant source material in a variety of media formats, in several languages and with diverse geographical, cultural and political origins.
The dimensions of the CVCE.eu digital infrastructure are threefold. It incorporates:
a dissemination platform giving access to digital publications and enriched data on European integration and related ICT-based tools and services;
a platform for knowledge creation, experimentation, information processing and analysis;
a collaborative platform for sharing and interacting with communities of practice.
The University of Luxembourg develops innovative resources for, and in cooperation with, the research, teaching and lifelong learning communities. They are openly accessible to a wide range of users, reflecting the university's public engagement and focus on knowledge transfer activities.
The CVCE.eu research infrastructure is internationally cross-linked with other environments and serves as an international test bed in the field of European studies and digital humanities. The research infrastructure is listed by the MERIL platform (Mapping the European Research Infrastructure Landscape), a European Science Foundation initiative. It also contributes to the Europeana cultural heritage platform and is the National Coordinating Institution in DARIAH-EU, the pan-European digital research infrastructure for the Humanities.
The University of Luxembourg also ensures the sustainability of and long-term access to its research infrastructure which includes tools for data storage, management and retrieval.
The building of the digital research infrastructure is work in progress and not all current results are visible on-line.
Further information: