'Pierre Werner and Europe' Project
Partnership agreement between the European Merit Foundation and the CVCE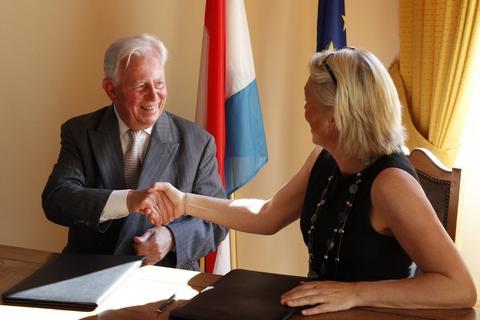 On Friday 7 June 2013, Jacques Santer, Honorary Minister of State and President of the European Merit Foundation (FME), and Marianne Backes, Director of the CVCE, signed a partnership framework agreement between the two institutions at the Château de Sanem.
After the fruitful cooperation between the CVCE and the FME which was sealed at the event 'EMU at the crossroads. The relevance of Pierre Werner's thinking in the 21st century', held on 6 March 2013, this agreement paves the way for new avenues of cooperation between the two institutions, particularly in connection with the centenary of Pierre Werner's birth later this year.
The FME is a Luxembourgish non-profit association that was set up in 1970 with the aim of recognising the achievements of individuals, and occasionally organisations, for their outstanding contribution to the advancement of the European ideal or for specific transnational accomplishments over and above their purely professional achievements.
For several years it has been awarding medals (gold, silver and bronze) to nationals from the European Union Member States. It is the only Order of Merit to be officially recognised on a European basis.