'Pierre Werner and Europe' Project
Academic event — 'Pierre Werner and Luxembourg: a vision of Europe'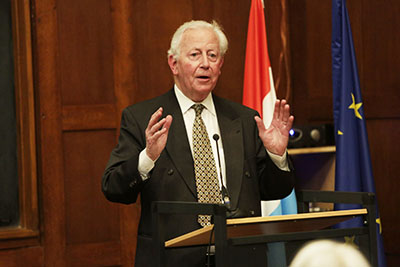 In connection with the 'Pierre Werner and Europe' research project, the Centre Virtuel de la Connaissance sur l'Europe, Robert Triffin International and the Pierre Werner Foundation, with the participation of PIE Peter Lang International Academic Publishers, organised an academic event entitled 'Pierre Werner and Luxembourg: a vision of Europe', which took place on 23 February 2016 at the University Foundation in Brussels.
The event opened with addresses by Marianne Backes (CVCE), Bernard Snoy (Robert Triffin International) and Henri Werner (the son of Pierre Werner), and a video message by Jean-Claude Juncker, President of the European Commission and Chairman of the Patronage Committee for the 'Pierre Werner and Europe' research project.
The evening continued with a presentation of the book 'Pierre Werner et l'Europe: pensée, action, enseignements / Pierre Werner and Europe: His Approach, Action and Legacy', edited by Elena Danescu, Researcher at the CVCE, and Susana Muñoz, Head of European Integration at the CVCE, and recently published by PIE Peter Lang.
Pierre Werner's life and political influence were illustrated with a biographical documentary produced by the CVCE on the basis of interviews conducted with his contemporaries as part of the CVCE's Oral History Programme.
Jacques Santer, Honorary Minister of State, former Prime Minister of Luxembourg and former President of the European Commission, closed the event with a lecture entitled 'Small country, grand vision: Luxembourg and the European idea'.