Working at the CVCE
The CVCE's staff members come from extremely varied academic, professional and geographical horizons. The Centre's strength lies in the interaction of their skills in an interdisciplinary, collaborative and constructive approach. They are all involved in the development and implementation of national and international projects in the fields of European studies and digital humanities.
The CVCE offers a stimulating, innovative research environment; it particularly encourages exchanges and dialogue by hosting visiting researchers. Its research activities are carried out in conjunction with cross-departmental services including IT and multimedia production, translation and communication, intellectual property and legal affairs, human resources and finance management, and administration and logistics.
CVCE staff members have the status of private sector employees.
If you would be interested in joining our young, dynamic, multicultural teams, you can apply for one of our vacancies by sending your CV and covering letter and any reference letters by email to
jobs@cvce.eu
.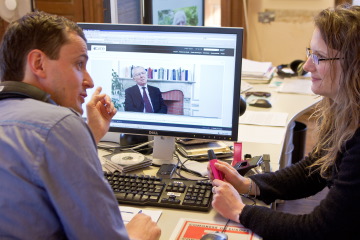 Data protection:
When you apply for a job at the CVCE, your relations with the CVCE are subject to the
Law of 2 August 2002 on the Protection of Persons with regard to the Processing of Personal Data
. On submitting your application to the CVCE, you accept that the information you provide will only be used for the purposes of compliance with legal and regulatory obligations and for management requirements: the information will be passed on to the members of the selection committees, who are bound to confidentiality. You can exercise your right to access and amend this information by sending an email to the CVCE at
jobs@cvce.eu
.