Dr Olivier Costa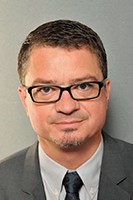 Directeur de recherche au CNRS, Centre Emile Durkheim - Science politique et sociologie comparatives
Sciences Po Bordeaux
Expertise areas
European Union institutions, European Union policies, European Parliament Representation, Legislative studies, Europeanization
Short biography
Olivier Costa holds a Ph.D. from the University of Paris 8. Currently he is Research Professor at the CNRS (Centre National de la Recherche Scientifique), Sciences Po Bordeaux, and Director of the European Political and Administrative Studies Department at the College of Europe (Bruges).
He has previously taught at Université Libre de Bruxelles, Sciences Po Paris, Washington State University (Pullman), Ritsumeikan University (Kyoto), University of Colorado (Boulder), University of Geneva and University of Cologne. He has been expert for the European Parliament, the European Commission (DG Research), EPSO, the Mercosur and the Council of Europe.
He is member of the editorial board of the Journal of European Integration, the Journal of Legislative Studies and the RISP: Italian Political Science Review.
His priorities in research include EU institutions and policies, European Parliament, French Parliament, comparative legislative politics and compared regionalism. He is currently coordinating several research projects about MPs, MEPs and the EU policy making.
Links
http://sciencespobordeaux.academia.edu/OlivierCOSTA
http://whoswho.coleurope.eu/w/Olivier.Costa
https://durkheim.u-bordeaux.fr/Notre-equipe/Chercheurs-et-enseignants-chercheurs/CV/Olivier-Costa
https://www.researchgate.net/profile/Olivier_Costa
https://www.linkedin.com/pub/olivier-costa/a/54a/819