'European integration studies' collection
'European integration studies' collection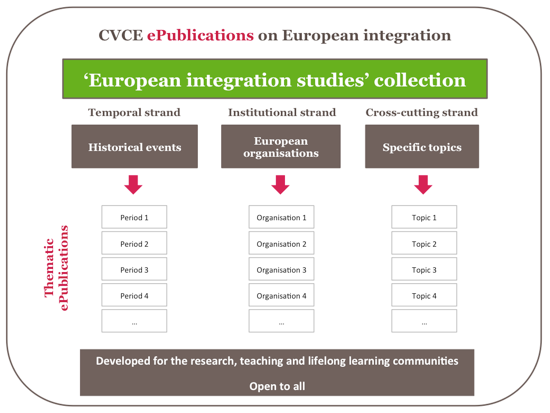 1. Description and aims of the collection
The 'European integration studies' collection is a reference work on the European integration process. It is a collection of thematic ePublications analysing and documenting this process from a multidimensional and transnational perspective.
The collection aims to provide a wide range of relevant and enriched source material combining multiple approaches to gain a better understanding of the manifold aspects of the European project. It thus contributes to scientific reference material on the past, present and future dimensions of European integration which informs current debate and allows for further research and use.
The collection is developed for the research communities as well as for teaching and lifelong learning purposes. It is also open to a public interested in the subject.
2. Overall structure and organisation of the collection
The thematic ePublications which form the 'European integration studies' collection are organised into three key strands: temporal, institutional and cross-cutting.
1. The temporal strand analyses European integration as a historical process from a chronological perspective, examining when events occurred and in what order. European integration is not seen as something ineluctable, but as a process where proposals were made, options where chosen, decisions were taken. The origins and evolution of the European integration are examined through an integrated and global perspective with a special focus on political, legal, economic and social factors.
The related thematic ePublications are part of a comprehensive work entitled 'Historical events in the European integration process', which is divided into different chronological periods and is subdivided into thematically coherent units. Each period constitutes a thematic ePublication.
The objectives for 2014–2017 are to adapt, enhance and further develop the existing thematic ePublications and to create a new one on the recent developments in European integration from 2010 to 2014 with a focus on the impact of the economic and financial crisis.
2. The institutional strand analyses the European integration process from the perspective of the international organisations operating at European level as leading players in this process. The focus is on studying their origins, structure and functioning as well as their role and contribution to European integration. The approach is mainly political and legal while keeping within a historical perspective.
The related thematic ePublications are part of a comprehensive work entitled 'The origins and development of the European organisations', which documents the major international organisations involved in European integration that have been established in Western Europe since the end of the Second World War: the European Communities/European Union (EU), the Council of Europe, Western European Union (WEU) and the Organisation for Security and Cooperation in Europe (OSCE).
From 2014 to 2017, the priority will be to review and enhance the existing ePublications, particularly by updating content relating to applicable European legislation and focusing on current developments in the EU institutions.
3. The cross-cutting strand offers a thorough analysis of specific issues on European integration.
The related thematic ePublications are mainly designed to fulfil the strategic objectives of creating new high quality research corpora during the 2014–2017 period, developing national and international collaboration strategies as well as maintaining a good level of participation in competitive European programmes.
New thematic ePublications will be developed on the following specific topics: Pierre Werner's European vocation and achievements, diplomacy within WEU, the European socio-economic model, and Luxembourg's European policy.
3. Definition and main features of thematic ePublications
A thematic ePublication is an enhanced digital scholarly publication composed of a wide range of relevant and enriched source material on a particular theme.
It is a self-contained and open-ended publication which is citable and accompanied by a scholarly apparatus. It is composed of purposefully selected, extensive documentary evidence supporting the study of a chosen theme and includes computer-based data analysis and visualisation.
The source material is heterogeneous, composed of a selection of primary, secondary and tertiary material of varying provenance and comprising different media and languages. The material may be digitised or born-digital, newly created or pre-existing.
A thematic ePublication is an enhanced form of digital publication based on hyper-textual narratives and navigational concepts with multiple points of entry and various pathways through the publication as well as integrated tools that enable a personalised approach in accordance with user interests and needs.
Thematic ePublications are subject to an external peer review prior to their publication within the CVCE.eu research infrastructure.
Thematic ePublications have a twofold dimension as a scientific product and a product for further research and use in teaching and lifelong learning activities as well as by society at large.