New publication by Elena Danescu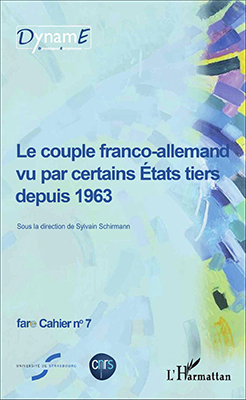 The interdisciplinary research institute DynamE — Dynamiques européennes at the University of Strasbourg has recently published a new issue of its Cahiers FARE, edited by Prof. Sylvain Schirmann, entitled Le couple franco-allemand vu par certains États tiers depuis 1963 [The Franco-German duo as seen by some third countries since 1963].
More than 50 years after the signing of the Élysée Treaty by Chancellor Adenauer and General de Gaulle, the papers in this book provide an overview of Franco-German relations by looking at how other countries see the duo. This approach encourages reflection on transnational processes and sheds new light on the development of the European project, initially seen as a 'Europe of states' built around France and Germany.
Dr Elena Danescu has contributed to the book with her chapter on 'European integration in the 1970s: Pierre Werner and the Franco-German duo'. Her analysis makes use of previously unpublished documents from the Werner family archives to demonstrate Pierre Werner's position between Paris and Bonn during a period of Community revival, as well as Luxembourg's role of mediator between its larger neighbours.
Danescu, Elena. La construction européenne dans les années 1970: Pierre Werner et le couple franco-allemand. In: Schirmann, Sylvain (ed.). Le couple franco-allemand vu par certains Etats tiers depuis 1963. Fare cahier No 7, CNRS. Paris: L'Harmattan, 2016. pp. 47–80.
ISBN: 978-2-343-09390-1; EAN: 9782343093901.