Seminar on 'Luxembourg and European integration' at the National Institute of Public Administration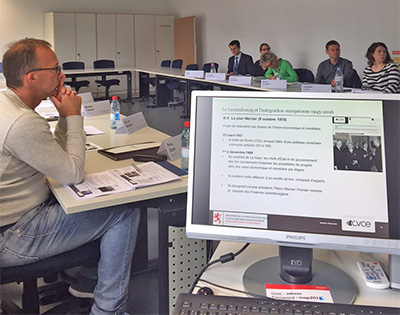 On 12 May 2016, in Luxembourg City, CVCE researcher Elena Danescu and scientific collaborator Marco Gabellini led a training seminar at the Luxembourg National Institute of Public Administration (INAP) on the topic 'Luxembourg and the European integration process, 1945–2016'.
This six-hour seminar, part of the institute's continuous training programme and aimed at members of the Luxembourg civil service, focused on Luxembourg's involvement in the European integration process from 1945 to 2016 from a historical, political and socio-economic perspective. Against the backdrop of the major milestones in regional and European post-war integration, the CVCE highlighted events in which Luxembourg and its politicians played a key role, major European issues that were managed by Luxembourg, and the actions and influence of the country's representatives in European bodies.
The CVCE's extensive expertise in European integration history, as well as the multimedia resources from the www.cvce.eu research infrastructure, formed the basis of the seminar, which was divided into three main parts:
I. Luxembourg and major European issues
the negotiations on the founding treaties (1951, 1957)
the 'battle of the seats' of the institutions (1965)
the empty chair crisis (1965–1966)
the negotiations on the first plan for an economic and monetary union (1969–1971)
the negotiations on the Maastricht Treaty (1990–1991)
II. Luxembourg and the presidencies of the Community institutions
presidencies of the European Commission (Gaston Thorn, 1981–1985; Jacques Santer, 1995–1999; Jean-Claude Juncker, 2014–)
presidencies of the Council of the European Communities/European Union
presidency of the Eurogroup (2005–2013)
III. Luxembourg's influence in the European Union
socio-economic and cultural information
Luxembourg's representation in the EU institutions