Meeting of the peer review committee for the 'European integration studies' collection (temporal strand)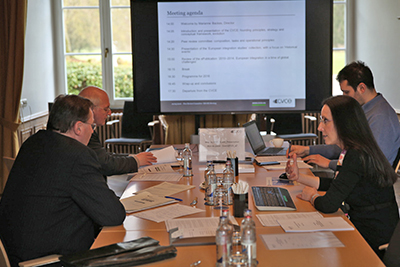 The peer review committee for the 'European integration studies' collection met on 10 March 2016 at the CVCE.
This interdisciplinary committee is composed of the following experts:
- Professor Marianne Dony, Jean Monnet Chair in European Union Law, Université libre de Bruxelles
- Professor René Leboutte, Professor of Contemporary History, ad personam Jean Monnet Chair in European Integration History, University of Luxembourg
- Professor Michael Gehler, Director of the Institute of History, Jean Monnet Chair of Comparative European Contemporary History and European Integration, University of Hildesheim
- Professor Wolfgang Wessels, Jean Monnet Chair, Department of Political Science and European Studies, University of Cologne
The quality assurance process for this collection, directed by Dr Susana Muñoz, Head of European Integration Studies at the CVCE, involves an external peer review of the various components of the thematic ePublications — enriched digital scholarly publications published at CVCE.eu.
This committee is particularly tasked with examining the temporal strand of the collection, entitled 'Historical events in the European integration process (1945–2014)'.
Its work is currently focused on the new ePublication related to the more recent events in European integration since 2010. This ePublication, directed by one of the CVCE's researchers, Dr Florent Spyropoulos, will shortly be published on the CVCE.eu research infrastructure.