Closing conference for the SMILE European project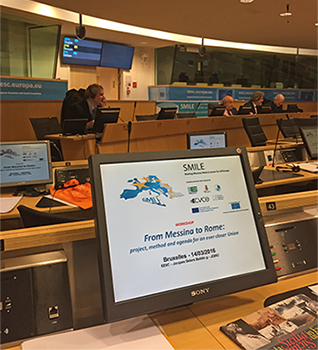 On 14 March 2016, Dr Susana Muñoz, Head of European Integration Studies at the CVCE, and Marco Gabellini, Scientific Collaborator at the CVCE, took part in the closing session of the European project SMILE — Sharing Messina Ideal a Lesson for all Europe, which was held at the headquarters of the European Economic and Social Committee in Brussels. The conference to mark this occasion, entitled 'From Messina to Rome: project, method and agenda for an ever closer Union', involved a panel of speakers from the political world and civil society, as well as some key players from the early days of the European integration process. Discussions particularly focused on the current crises facing the European Union and provided an opportunity to reflect on how to revive the plan for a closer, more united Europe.
The partners of the SMILE project, launched by the Italian Council of the European Movement (CIME) with the Centre Virtuel de la Connaissance sur l'Europe (Luxembourg), the Jean Monnet Association (France), the Konrad Adenauer Foundation (Germany) and the town of Messina (Italy), also presented the results of this European initiative, which was held in connection with the events to mark the 60th anniversary of the Messina Conference of June 1955. The Messina Conference marked a turning point in the revival of European integration, leading to the signing of the Rome Treaties by the six ECSC Member States two years later. These treaties simultaneously established the European Economic Community (EEC) and the European Atomic Energy Community (EAEC or Euratom).
This European partnership was supported and funded by the European Commission's 'Europe for Citizens' Programme.