Meeting of the peer review committee for the 'Oral history of European integration' collection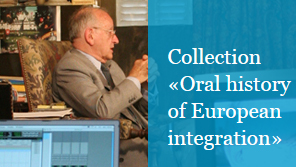 On 4 February 2016, a meeting of the peer review committee for the 'Oral history of European integration' collection — directed by Dr Susana Muñoz, the CVCE's Head of European Integration Studies — was held at the CVCE.
The committee is composed of four internationally renowned experts:
Professor Raphaela Averkorn, Chair of Mediaeval and Modern History, Jean Monnet ad personam, University of Siegen
Dr Florence Descamps, Senior Lecturer in Historical and Philological Science, École Pratique des Hautes Études, Paris
Robert Frank, Emeritus Professor at Paris 1 Panthéon-Sorbonne University
Dr Donald Ritchie, Historian Emeritus of the United States Senate
The work of the external peer review committee is part of the quality assurance process for the collection and plays an important role in its future development.
The collection currently comprises nearly a
hundred published eInterviews
with key players and eyewitnesses of the European integration process. These eInterviews, conducted for research purposes by the CVCE team, represent primary sources for research in European integration studies (particularly in the areas of contemporary history, European law, political science and other related disciplines), knowledge transfer and teaching. They also constitute a precious legacy and are of interest for society in general. The eInterviews, published in six original languages, are devised as enhanced digital publications in line with the CVCE's editorial framework: they each comprise a series of resources, including biographies, transcriptions, translations and selections of themed excerpts, in addition to the recordings themselves.