Lecture by Donald A. Ritchie: using oral history as a tool for measuring institutional change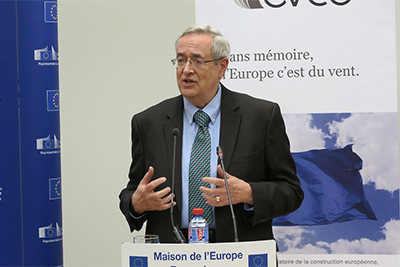 On 4 February 2016, as part of the CVCE lecture series, Dr Donald A. Ritchie, Historian Emeritus of the United States Senate and a member of the CVCE's Oral History Peer Review Committee, gave a lecture entitled 'Measuring Change in a Traditional Institution: Oral History Inside the United States Senate'.
The United States Senate is the most traditional of all the US political institutions. Although there have been many internal attempts at modernisation, oral history interviews reveal that external social, technological and political forces have changed the Senate far more significantly than any formal reforms or reorganisations.
Drawing on his extensive expertise and experience, Dr Ritchie spoke about the interviews conducted with senators and staff which have provided a means of measuring the undercurrents of change inside an outwardly unchanging institution.
The lecture was presented by Dr Susana Muñoz, Head of European Integration Studies at the CVCE, and organised in partnership with the European Parliament Information Office in Luxembourg, the European Parliamentary Research Service, the Historical Archives of the European Parliament and the United States Embassy in Luxembourg.