Seminar on fundamental social rights at the University of Luxembourg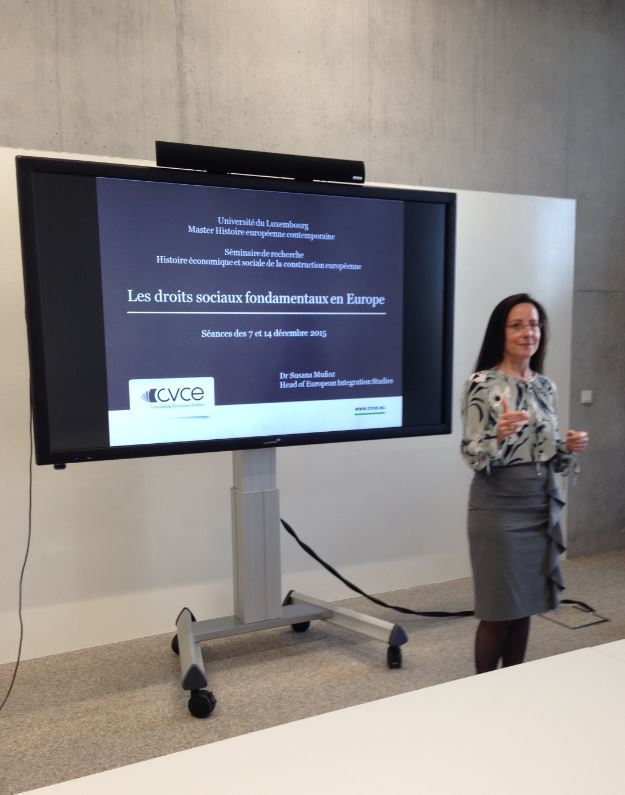 On 7 and 14 December 2015, Dr Susana Muñoz, Head of European Integration Studies at the CVCE, spoke at the 'Economic and social history of European integration' seminar cycle at the University of Luxembourg. These seminars, part of the Master's in Contemporary European History, looked at the issue of fundamental social rights in Europe.
Dr Muñoz analysed how the recognition and protection of these rights has developed at regional European level, particularly focusing on the Community Charter of the Fundamental Social Rights of Workers of 9 December 1989 and the Charter of Fundamental Rights of the European Union, which was proclaimed on 12 December 2007. The legal value of the Charter following the Treaty of Lisbon, the case law of the Court of Justice of the European Union and the relationship with the existing protection system in the Council of Europe — including the question of the European Union's accession to the European Convention for the Protection of Human Rights and Fundamental Freedoms (ECHR) — were also examined.
A debate was then held with the students on the issue of social rights in the European Union and the EU's fundamental values, based on a selection of written sources, images and audiovisual material published in the CVCE.eu digital research infrastructure on European integration.