Continued cooperation between the CVCE and the Werner family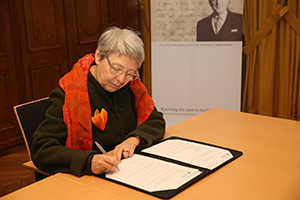 On 19 December 2014, the CVCE and the Werner family renewed their cooperation by signing a rider to the cooperation and confidentiality agreement that provides for the exploitation of the Pierre Werner family archives over the next four years.
The agreement, initially signed on 22 December 2009, offers the CVCE's researchers privileged access to the Werner family archives for the purposes of the 'Pierre Werner and Europe' research project, which looks at the European achievements and vocation of Pierre Werner, a former Prime Minister, Finance Minister and Foreign Minister of Luxembourg, unanimously recognised as one of the architects of Economic and Monetary Union.
From 2010 to 2013, the exploitation of these archives gave rise to a research corpus on the Werner Report aimed at the academic community, a subject file for teaching purposes, a biographical documentary primarily based on excerpts from original interviews conducted by the CVCE in connection with the project, and a series of public events, the most recent of which were a round table with key players and eyewitnesses and an international conference to mark the centenary of Pierre Werner's birth. In October 2014, work began on a second research corpus that will examine Pierre Werner's European achievements as a whole.